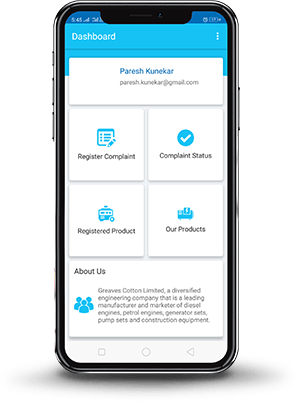 Greaves Genius comes with a high speed data transmitting smart device, which allows real-time tracking of all the related operations on Mobile Phone. The advanced analytics technology enables comprehensive health monitoring of the Gensets and can perform in-depth prognostic fault diagnostics.
This IOT enabled smart Gensets are also powered by Greaves1 mobile app, making it convenient for Gensets owners to track live data, automatic complaint registration, track fuel pilferage and proactive warnings on mobile much before the actual failure. This is also highly beneficial for multiple Genset owners such as Rental business owners, retail chain, banks with multiple locations, large manufacturing plants, airports, among others. The 5-year free warranty on complete Genset is available in the range between 10kVA and 500kVA.
This allows customers to get predictive maintenance service from Greaves with faster troubleshooting and hence lower MTTR (Mean Time to Restore) & increased Genset uptime. Complaints are automatically logged at the nearest service centre as soon as the Genset operations are interrupted.